120 East 65th St
New York 10065
Appointment Recommended
8023638100

Also at:
980 Madison Avenue, 3rd Floor
New York, NY 10075
212 980 0700
Founded in 2012 by Adam Lindemann, Venus Over Manhattan is dedicated to curated exhibitions both historic and contemporary, which cast a unique and often iconoclastic view on the work of established artists or artists whose works have been somewhat overlooked. Noteworthy exhibitions and presentations have included those dedicated to Roger Brown, Bernard Buffet, Billy Al Bengston, William N. Copley, Walter Dahn, Roy De Forest, John Dogg, Jack Goldstein, Maryan, Peter Saul, and H.C. Westermann, Joseph Elmer Yoakum. The gallery also presents exhibitions by a roster of established artists including Katherine Bernhardt, Alexander Calder, Maurizio Cattelan, Mike Kelley, John McCracken, Cady Noland, Raymond Pettibon, Andy Warhol, and Franz West.
Artists Represented:
Peter Saul
Roger Brown
Maryan
Roy De Forest
Joseph Elmer Yoakum
Andrew Lamar Hopkins
Works Available By:
Alexander Calder
Billy Al Bengston
Judith Bernstein
John Dogg
Ed Paschke
H.C. Westermann
Jim Nutt
Past Exhibitions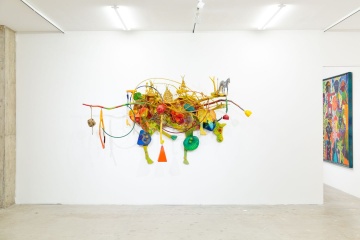 Roy De Forest
980 Madison Avenue, 3rd Floor
New York, NY 10075

March 3, 2020 - April 25, 2020
Öyvind Fahlström
980 Madison Avenue, 3rd Floor
New York, NY 10075

September 24, 2019 - November 2, 2019
Joseph Elmer Yoakum
980 Madison Avenue, 3rd Floor
New York, NY 10075

June 20, 2019 - July 26, 2019
Calder Crags + Vanuatu Totems from the Collection of Wayne Heathcote
980 Madison Avenue, 3rd Floor
New York, NY 10075

April 25, 2019 - June 8, 2019
H.C. Westermann
Works on Paper
980 Madison Avenue, 3rd Floor
New York, NY 10075

February 20, 2019 - April 6, 2019
Charlotte Perriand
980 Madison Avenue, 3rd Floor
New York, NY 10075

November 1, 2018 - December 22, 2018
The Art of Collaboration
980 Madison Avenue, 3rd Floor
New York, NY 10075

September 17, 2018 - October 27, 2018
Out of Control: curated by Peter & Sally Saul
980 Madison Avenue, 3rd Floor
New York, NY 10075

June 28, 2018 - August 10, 2018
Giacometti, Twombly, West: Sculptures of Existence
980 Madison Avenue, 3rd Floor
New York, NY 10075

May 3, 2018 - June 23, 2018