183 Stanton Street
New York, NY 10002
212 582 6111

TOTAH is a nexus for dialogue that transcends the traditional gallery model. Founded by David Totah in 2015, we seek to channel the artist's work and worldview, bringing it to those with whom it resonates. Established artists are considered with fresh eyes, emerging practitioners find their connection to canon, and a sense of the global is made to feel local. Ours is an intentional space with patience for revelation, continuing a family tradition that started in the 1960s.
TOTAH's focus is modern and contemporary art, through which we represent eight artists and one estate. In their work we recognize an enduring quality and truth that each explores. We look for ways to enrich the experience of audiences, and continually challenge ourselves to bring new perspectives to the table.
Artists Represented:
David Austen
Mara De Luca
Aleksandar Duravcevic
TR Ericsson
Melissa McGill
Luca Pancrazzi
Kenny Scharf
Alex Sewell

Estate of Lauretta Vinciarelli

Works Available By:
Mel Bocher
Alighiero Boetti
Saul Steinberg

Current Exhibition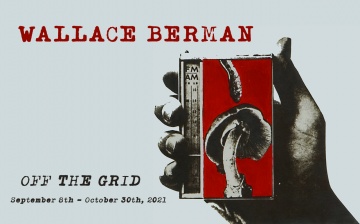 Wallace Berman
Off the Grid
September 8, 2021 - October 30, 2021
TOTAH presents Off the Grid, featuring 45 works by California art legend Wallace Berman (1926-1976), on view from September 8th through October 30th, 2021. Rarely shown on the East Coast, this exhibition is Berman's long overdue return to New York since his last major solo retrospective at the Whitney Museum of American Art in 1978.
Past Exhibitions
Archie Rand
Sweet Sixteen
July 14, 2021 - August 21, 2021
TOTAH presents Sweet Sixteen, featuring new paintings by Archie Rand, on view from July 14th through August 21st, 2021. This is Rand's second solo exhibition with the gallery. The recent paintings of Archie Rand communicate an alternative history. The materiality of acrylic paint on canvas serves as the substrate for erotic hallucinations, equal parts grandiose and modest, playful and austere. Just like the carefully balanced, otherworldly vistas he depicts, the viewer is invited to linger on each painting and insert his or her own narrative into the images presented there. Titled after the prophets of the Old Testament, the paintings included in Sweet Sixteen could be considered open-ended tableaux. The overt sexuality depicted in each work functions like a scrim through which more subtle visual relationships draw the viewer's attention.
Mara De Luca
Lilith and the Sun
May 5, 2021 - July 10, 2021
TOTAH presents Lilith and the Sun, featuring new paintings by Mara De Luca, opening May 5th, 2021. This is the artist's second solo exhibition with the gallery. Mara De Luca's recent body of work expands on the ideas she presented in Talisman, her first solo exhibition at TOTAH. Further developing her core concerns with the pictorial and the material, Lilith and the Sun implies the idea of opposites: light vs. dark, internal vs. external, contained vs. projected. In Kabbalistic literature, Lilith is associated with the creation of luminaries. She is the "first light," the light of Mercy, and appeared on the first day of creation when God said "Let there be light." Moving from darkness to light, De Luca positions the sky as a vehicle for projection, an expression of the tension between the physical and the intangible.