Tina Kim Gallery
525 West 21st Street
New York, NY 10011
212 716 1100
Founded in New York in 2001 by Tina Kim and located in Chelsea, Tina Kim Gallery is celebrated for its unique programming that emphasizes international contemporary artists, historical overviews, and independently curated shows. With the gallery's strong focus on Asian contemporary artists, Tina Kim has created a platform for important emerging and renowned women artists such as Minouk Lim, Wook-Kyung Choi, and Suki Seokyeong Kang, and has become a go-to destination for Korean contemporary and historical art. Through its programming, the gallery works closely with internationally renowned curators for special exhibitions and produces scholarly art publications.
Artists Represented:
CHUNG SEOYOUNG
DAVIDE BALLIANO
GHADA AMER
GIMHONGSOK
HA CHONG-HYUN
KIBONG RHEE
KIM TSCHANG-YEUL
KIM YONG-IK
LEE SEUNG JIO

MINOUK LIM
PARK CHAN-KYONG
PARK SEO-BO
SUH SEUNG-WON
SUKI SEOKYEONG KANG
TANIA PÉREZ CÓRDOVA
WOOK-KYUNG CHOI
Works Available By:


Past Exhibition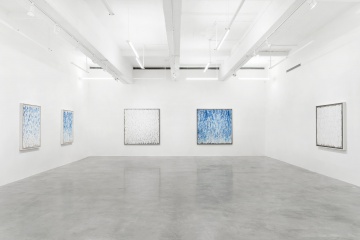 Ha Chong-Hyun
Return to Color
May 8, 2021 - June 30, 2021
"An artist should constantly grapple with color. And I thought I would be able to finally complete the puzzle of my art world when I fill in the missing color." – Ha Chong-Hyun Tina Kim Gallery is pleased to present Return to Color, a solo exhibition of works by Ha Chong-Hyun (b. 1935), one of the leading members of the Dansaekhwa movement. Ha Chong-Hyun began his Conjunction series in the 1970s and has developed the techniques into a signature style. The word "Conjunction" denotes the physical connection between two significant elements of his practice, his methods and his materials, and how the two are 'conjoined.' He started to use burlap in replacement of the more traditional canvas popular after the Korean War. It allows him to approach each painting from the reverse, pushing thick paint through the loose weave. The oil paint then emerges from the front, creating a texture that has become iconic to Ha's practice. In 2011, Ha moved away from his traditional oeuvre, engaging in an experimental series called Post-Conjunction, which reflects a pivotal change in his artistic philosophy. Unlike the original Conjunction series, Ha utilized an array of colors in creating Post-Conjunction works, a dynamic shift from his otherwise stalwart usage of monochrome. This series would go on to inform his new Conjunction works constructed in the last decade that contain hybridized properties of post and original. Marking his third solo presentation with the gallery, the exhibition surveys the last decade of the artist's practice with new polychromatic works that illuminate a return to color as well as a departure from his foundational, monochromatic Conjunction series first developed in the 1970s. The exhibition will be on view from May 8 to June 30 2021.