2242 Richmond Avenue
Houston, TX 77098
Appointment Recommended
713 520 9988
Since 1980, Robert and Cynthia Cage McClain have focused on the exhibition and the acquisition of museum quality modern and contemporary American and European art. McClain Gallery's program represents important twentieth-century figures while continuing to commit to younger generations of artists, which includes primary representation of many Texas-based artists. Our exhibition program is augmented by survey and group shows that investigate current themes in contemporary art within historic contexts. In addition to promoting the work of our stable of artists, our strength is guiding and educating both the new, as well as the seasoned, collector. We actively advise and help private individuals and institutions in the acquisition and sale of artworks to organizing a comprehensive program of collecting. With over three decades of proven expertise, McClain Gallery has a strong reputation as secondary market specialists who offer, research, and source artworks of exceptionally high quality with discretion. We regularly attend art fairs, bid at auctions and draw on our existing strong relationships with dealers, museum professionals, and collectors around the globe to provide our clients with thorough, insightful, and market savvy advice.
Artists Represented:
John Alexander Donald Baechler
Karin Broker
The Bruce High Quality Foundation
Brendan Cass
Seth Cameron
Gisela Colon
Stephen Dean
Anne Deleporte
Kent Dorn
Christian Eckart
Sharon Engelstein
Cleve Gray
Donna Green
Katsumi Hawakaya
Mara Held
Dorothy Hood
Jeff Shore | Jon Fisher
Bo Joseph
Julia Kunin
Gary Lang
Rosa Loy
Angelina Nasso
Henrique Oliveira
Aaron Parazette
Rob Reasoner
Elaine Reichek
David Row
Jonathan Seliger
Ray Smith
Peter Sullivan
Shane Tolbert
Kelli Vance
Bernar Venet



Current Exhibition
Sari Dienes & Addie Herder
June 11, 2022 - July 30, 2022
McClain Gallery presents two simultaneous solo exhibitions of historic works by Sari Dienes (1898–1992) and Addie Herder (1920–2009). Dienes and Herder's distinctive creative paths overlapped in the storied Sherwood Studios during the 1950s and 1960s. Sherwood Studios at 58 West 57th Street, New York, NY was built as a home to artists and writers in the nineteenth century and remained active until 1960. Both artists were adventurous in their approach to material experimentation, incorporating found objects in a way that exposed their keen awareness of the urban environment they inhabited. We are grateful to Pavel Zoubok Fine Art for their collaboration on these exhibitions.
Past Exhibitions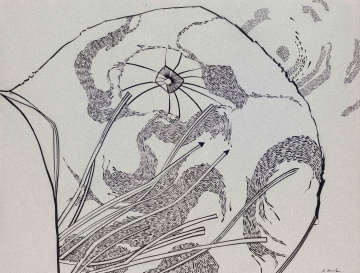 Alma Allen, Louise Bourgeois, Leonora Carrington, Max Ernst, Ficus Interfaith, Dorothy Hood, Katarzyna Przezwańska, Helen Evans Ramsaran, Odilon Redon, Dorothea Tanning, Remedios Varo
Cosmic Eye of the Little Bird
March 26, 2022 - May 28, 2022
McClain Gallery presents Cosmic Eye of the Little Bird: a group exhibition of sculpture and works on paper that set up a call and response with a selection of Dorothy Hood's ink drawings from the second half of the twentieth century. The exhibition includes artists who inspired her, like Max Ernst and Odilon Redon, and her contemporaries Leonora Carrington, Remedios Varo, Louise Bourgeois, and Dorothea Tanning. It also looks at the resonance of Hood's expressive artistic impulse with a younger generation of sculptors from Alma Allen, Ficus Interfaith, and Katarzyna Przezwańska to Helen Evans Ramsaran.
Ping Zheng
Ping Zheng: The Voice of Water
October 30, 2021 - January 8, 2022
McClain Gallery is pleased to announce an exhibition of new oil-stick-on-paper paintings by Ping Zheng (b. 1989 in Zhejiang, China). Zheng's imagery is rooted in nature but operates in a richly symbolic realm where the vibrational energy of the natural world merges with biomorphic abstraction. In depicting landscapes both real and imagined, Zheng embodies a space where she has long found freedom and solace. The Voice of Water is the artist's second solo exhibition, following our inaugural presentation of her work online in 2020.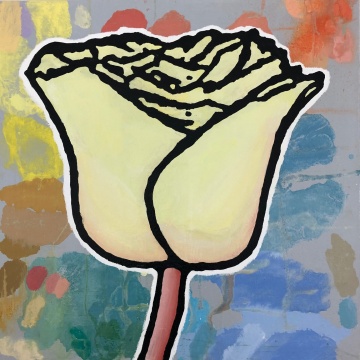 Donald Baechler
Donald Baechler: Remedy of Anything
May 15, 2021 - August 21, 2021
McClain Gallery presents an exhibition of new work by Donald Baechler entitled Remedy of Anything. This is Baechler's fourth solo show at McClain Gallery and combines small paintings with graphite drawings.
Dorothy Hood
Dorothy Hood: Collage
June 24, 2020 - August 29, 2020
McClain Gallery is pleased to present a focused look at collages by Dorothy Hood (b. 1918, Bryan, Texas d. 2000, Houston, Texas). The pictorial space and visual fissures of her large-scale paintings and works on paper recall a profound mindscape that echoes her early Surrealist connections from her time spent in Mexico in the 1940s-1960s. Having moved back to Houston in 1962, the impact of the space age and the fathoms of the cosmos influenced Hood's paintings further. She would start making collages in 1982, and while lesser-known, these works are rich in material experimentation and reveal a more intimate look at the artist's process and inspirations. By focusing on an edited group of collages, this exhibition provides a closer look at Hood's unique artistic vision and expands the understanding of her practice as a whole.
Elaine Reichek
Elaine Reichek: Between the Needle and the Book
January 18, 2020 - March 7, 2020
McClain Gallery is pleased to present artist Elaine Reichek's first solo exhibition with the gallery, Between the Needle and the Book. Occupying both of the gallery's spaces, this two-part show introduces Reichek's five-decade career like a pair of bookends, juxtaposing her most recent text-based embroideries with sewn paintings and fabric works from the 1970s. For Reichek, embroidering words onto fabric rejoins text to its etymological sibling, textile. In the early 1990s, Reichek began researching the history of the embroidered sampler and sewing new versions of traditional patterns. In her revisionist samplers, she strategically replaces the usual scriptural verse or wise maxim — which young girls learned to sew as part of their education — with alternative literary or historical quotes from a distinctly feminist perspective, whether critical or humorous. Over time, as Reichek appropriated from a wider variety of both textual and art historical sources, her embroideries have expanded beyond the formal bounds of the sampler, even as they continue to employ thread and fabric as fundamental materials.