501 West 24th Street
New York, NY 10011
212 255 2923

Also at:
536 West 22nd Street
New York, NY 10011

Rachel Lehmann and David Maupin founded Lehmann Maupin in 1996. The gallery represents a diverse range of American artists, as well as artists and estates from across Europe, Asia, Africa, South America, and the Middle East. It has been instrumental in introducing numerous artists from around the world in their first New York exhibitions. Known for championing artists who create groundbreaking and challenging forms of visual expression, the gallery prioritizes personal investigations and individual narratives. Lehmann Maupin prizes the distinct conceptual approaches that its artists offer on the essential matters that shape international culture today, including gender, class, religion, history, politics, and globalism. In 2013, with two locations in New York, significant interest in its artists abroad, and growing opportunities in new markets, Lehmann Maupin opened an additional location in Hong Kong, followed by Seoul in 2017.
Artists Represented:
Kader Attia
Hernan Bas
Ashley Bickerton
McArthur Binion
Heidi Bucher
Billy Childish
Teresita Fernández
Anya Gallaccio
Gilbert & George
Nicolas Hlobo
Shirazeh Houshiary
Klara Kristalova
Lee Bul
Liu Wei
Liza Lou
Marilyn Minter
Mr.
Wangechi Mutu
Catherine Opie
OSGEMEOS
Angel Otero
Tony Oursler
Helen Pashgian
Lari Pittman
Alex Prager
Robin Rhode
Tim Rollins and K.O.S.
David Salle
Jennifer Steinkamp
Suh Se Ok
Do Ho Suh
Juergen Teller
Patrick Van Caeckenbergh
Cecilia Vicuña
Nari Ward
Erwin Wurm
Works Available By:
Stefano Arienti
Kutlug Ataman

Mary Corse
Adriana Varejão
Kara Walker


Past Exhibitions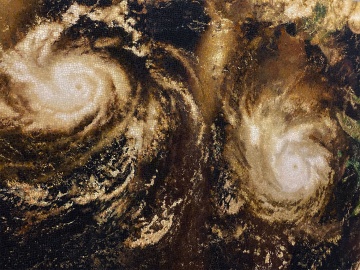 Teresita Fernández
Maelstrom
November 12, 2020 - January 9, 2021
Lehmann Maupin is pleased to announce Teresita Fernández, 'Maelstrom'. This exhibition will feature a new series of monumental sculptures and installations that unapologetically visualize the enduring violence and devastation ignited by colonization. Focusing on the Caribbean archipelago, the first point of colonial contact in the Americas, Fernández challenges us to consider a more nuanced reading of people and place, one that looks beyond dominant, continental narratives and instead considers the region as emblematic of an expansive and decentralized state of mind. The artist conjures images of catastrophic weather and natural disasters as metaphors for centuries of injustice, U.S. military intervention, ecological destruction, and systemic oppression as a means of reflecting on the sociopolitical turmoil and abandon to which the region and its populations have been (and continue to be) subjected.
Lari Pittman
Found Buried
March 5, 2020 - April 25, 2020
Lehmann Maupin is pleased to announce Found Buried, Lari Pittman's first solo exhibition with the gallery. For this new body of work, the Los Angeles-based artist will present a series of new paintings and works on paper that combine the genres of landscape, portraiture, and still life. Pittman continues to address the histories of identity, violence, class, and human nature through the polemicized lens of decoration, decor, and the decorative embodied in the memento mori and other forms of commemoration. Pittman is best known for his unique visual aesthetic that has established him as one of the most significant painters of his generation. In this exhibition, he continues his signature, densely-layered painting style that includes a lexicon of signs and symbols, a compilation of varied painting techniques, and a clear homage to the applied and decorative arts. There will be an opening reception with the artist on Thursday, March 5th, from 6 to 8 PM at 501 24th Street, New York, NY 10011.
Billy Childish
January 23, 2020 - February 29, 2020
remember all the high and exalted things remember all the low and broken things Lehmann Maupin is pleased to announce an exhibition of new paintings by Billy Childish. The prolific British artist, musician, and writer has produced hundreds of albums and dozens of volumes of fiction and poetry. For his fifth exhibition with the gallery Childish has created a body of work emblematic of his "radical traditionalist" approach. Pulling from themes found throughout art history—the bather, a lone figure in a landscape, a sunset—Childish presents intensely personal vignettes that feel archetypical, vibrating with the kinetic energy of a moment lived. The gallery will host an opening reception on Thursday, January 23, from 6 to 8 PM at 536 West 22nd Street.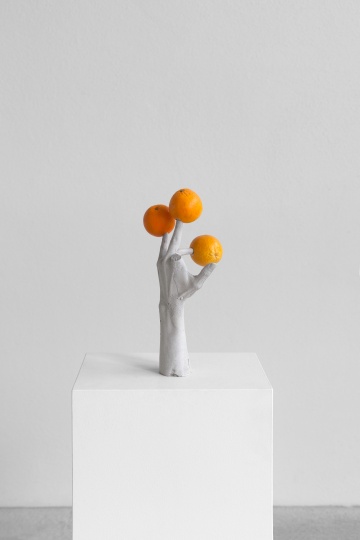 Erwin Wurm
Yes Biological
January 16, 2020 - February 22, 2020
Lehmann Maupin is pleased to announce Yes Biological, an exhibition of new sculptures by Erwin Wurm. For the last two decades, the Austrian artist has redefined the ways we understand and look at absurdity in his sculptural, performative, and engaging works. For this exhibition, Wurm will combine biological effects to create a new series that pushes the boundaries of sculpture even further. There will be an opening reception for the artist on Thursday, January 16 from 6 to 8 pm.
Kader Attia
Mirrors of Emotion
September 10, 2019 - October 26, 2019
Alex Prager
Play the Wind
September 5, 2019 - October 26, 2019
cart, horse, cart
June 20, 2019 - August 17, 2019
cart, horse, cart
June 20, 2019 - August 17, 2019
Heidi Bucher
The Site of Memory
April 25, 2019 - June 15, 2019
Tim Rollins and K.O.S.
Workshop
April 18, 2019 - June 15, 2019
Angel Otero
Milagros
March 7, 2019 - April 20, 2019
Jennifer Steinkamp
Impeach
February 28, 2019 - April 13, 2019
Margherita Manzelli
Bluebird
January 24, 2019 - February 23, 2019
Mandy El-Sayegh
November 8, 2018 - January 12, 2019
Catherine Opie
The Modernist
November 1, 2018 - January 12, 2019
Suh Se Ok
September 8, 2018 - October 27, 2018
Liza Lou
The Classification and Nomenclature of Clouds
September 6, 2018 - October 27, 2018
Nicholas Hlobo
Ulwamkelo
July 12, 2018 - August 24, 2018
Cecilia Vicuña
La India Contaminada
May 19, 2018 - July 6, 2018
Teresita Fernández, Catherine Opie, Tim Rollins and K.O.S., Nari Ward
American Landscape
March 15, 2018 - May 5, 2018
Robin Rhode
The Geometry of Color
January 18, 2018 - March 10, 2018