4520 Blossom Street
Houston, TX 77007
713 863 7097
Founded in 1984, Houston, TX.
Artists Represented:
Eric Aho
Drew Bacon
Jennifer Bartlett
Julie Bozzi
Dave Darraugh
Jack Davidson
Tony Feher
Vernon Fisher
Mark Fox
Timothy Greenfield-Sanders
Dana Harper
Joseph Havel
Will Henry
Hana Hillerova
David Hutchinson
Bill Jacobson
Terrell James
Matt Kleberg
Kyung-Lim Lee
Matt Magee
Michael Petry
James Siena
Brooke Stroud
Michael Tracy
James Turrell
Robert Wilson

Works Available By:
Forrest Bess
Nancy Brooks Brody
Daniel Buren
John Cage
Vija Celmins
Carroll Dunham

Ian Hamilton Finlay

Mark Flood
Sam Francis
Helen Frankenthaler

Ellen Gallagher
Peter Halley
Howard Hodgkin
Shana Hoehn
Jasper Johns
Jennie C. Jones
Donald Judd
Ellsworth Kelly

Sherrie Levine

Sol LeWitt
Brice Marden
Agnes Martin

Jack Pierson
Robert Rauschenberg
Fred Sandback
Richard Serra

Kiki Smith
Frank Stella

Martha Tuttle
Richard Tuttle
Cy Twombly

Meg Webster
Terry Winters

Margo Wolowiec
Past Exhibitions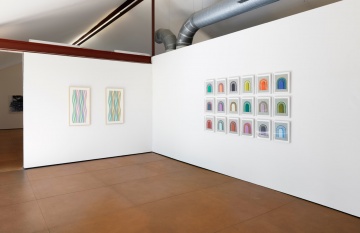 Matt Kleberg, Bridget Riley, Julia Rommel
BOOMERANG
September 3, 2022 - October 29, 2022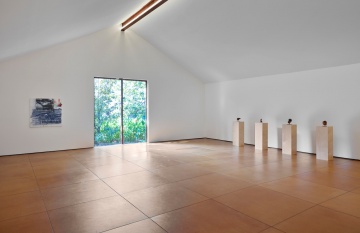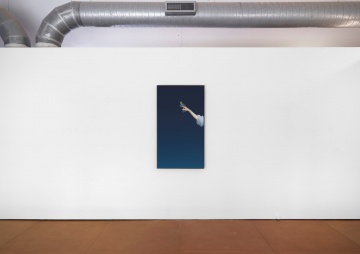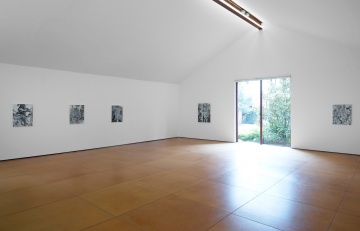 Mark Fox
Precipice
January 28, 2022 - March 26, 2022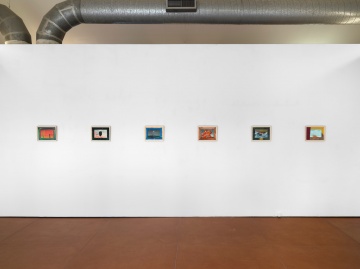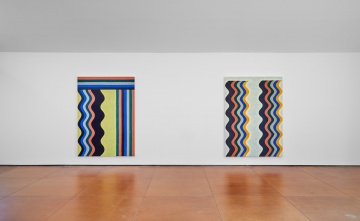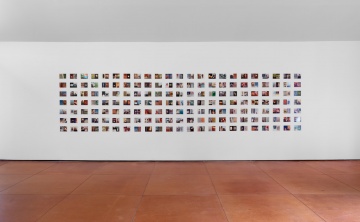 Matt Magee
Animal, Vegetable, Mineral
September 18, 2021 - November 6, 2021
Matt Magee: Animal Vegetable Mineral / Photo Composites (1980-2005) is a survey of a body of photographic works that spans nearly three decades. Beginning in 1980, Magee began shooting 35mm film with a Rollei camera, and abutted commercially developed 3 1/2 x 5 inch color prints together in pairs on slightly larger substrates. By seamlessly combining two images in each work, Magee poetically synthesized a new whole. The subjects of Magee's images are quite varied, but have several consistent points of connectivity that are bookended by everyday observations and constructed or performed scenarios. These include the likenesses of friends, lovers, and family, scenes from travel, as well as objects from nature and culture. The physicality of these printed objects situates them firmly in a pre-digital era, before the ubiquity of digital cameras and the decline of commercial photo labs in the 2000s. This body of nearly one thousand works functions both as a personal archive and as a visual framework that encapsulates Magee's foundational approach to image making, which is evident in his wide ranging practice that includes painting, sculpture, and printmaking.
Kate Shepherd
News
June 22, 2021 - August 21, 2021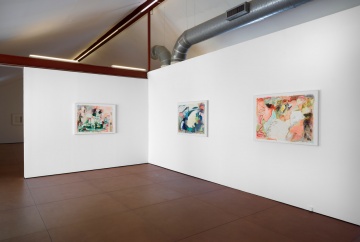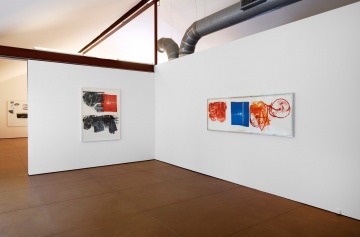 Robert Rauschenberg
Robert Rauschenberg: The Fifth Veil
November 18, 2020 - December 23, 2020
Robert Rauschenberg The Fifth Veil is an exhibition that focuses on three lithographs that the artist made at Universal Limited Art Editions on Long Island in 1974-75: Treaty (1974), Kitty Hawk (1974), and Kill Devil Hill (1975). In the sequence of Rauschenberg's print output, these works immediately follow a series of four lithographs titled Veils 1-4 (1974) that each depict an isolated image of a neckerchief that belonged to ULAE's founder, Tatyana Grosman. The image of a fifth Veil was recorded in the same proofing session, and though it was not published as an individual print, the image would appear in the three aforementioned lithographs among an array of layered images. Many of the images that appear alongside the Veil are Rauschenberg's own photographs that were taken in and around the print studio including paper bags, cheesecloth, a child's shirt, and a fire exit sign. One particularly notable image of a mangled bicycle appears in both Kitty Hawk and Kill Devil Hill, which may be recognizable to some viewers as a tribute to the Wright Brothers, whose bicycle business in Dayton, Ohio, largely funded their early experiments in modern aviation. The assembly of these three works offers a rare opportunity to delve into Rauschenberg and ULAE's experimental approach to printmaking on a large scale.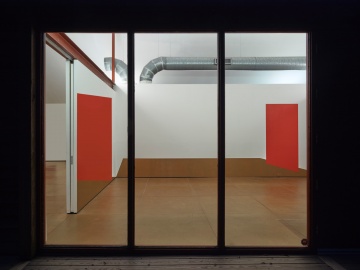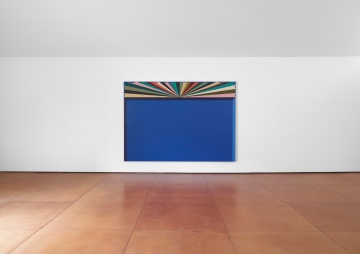 Matt Kleberg
Matt Kleberg: Holding Pattern
April 17, 2020 - June 17, 2020
An exhibition of new paintings by New York based painter Matt Kleberg.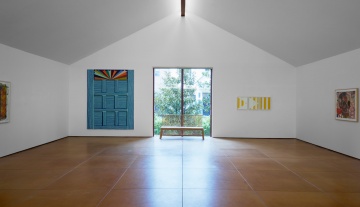 The Blurred Discreteness of Colors
February 12, 2020 - March 28, 2020
Jennifer Bartlett Daniel Buren David Hutchinson Matt Kleberg Matt Magee Robert Rauschenberg Kate Shepherd Martha Tuttle Terry Winters
Jane Benson, Joseph Havel, Leslie Hewitt, Rick Lowe, Clarissa Tossin
Place
August 17, 2019 - September 28, 2019
Dan Walsh
Paintings
June 1, 2019 - July 27, 2019
Robert Rauschenberg
Postscripts for XXXIV Drawings for Dante's Inferno & Post Rally
May 4, 2019 - June 29, 2019
David Hutchinson
Confessional Paintings
April 6, 2019 - May 25, 2019
Richard Serra
Equals
March 5, 2019 - April 27, 2019
Julie Bozzi, Steve Dennie, Vernon Fisher, Nic Nicosia, Allison V. Smith
Voyeur of the Mundane
February 2, 2019 - March 30, 2019
Mark Fox
HOODWINKED(!%#*!)
January 19, 2019 - February 23, 2019
Will Bentsen
Fearless
December 1, 2018 - January 26, 2019
Rick Lowe
Drawings
November 3, 2018 - January 12, 2019
Veils
October 6, 2018 - November 24, 2018
Carmen Herrera
Prints
September 13, 2018 - October 27, 2018
Robert Rosenberg
Parking Only for Gay Conversion Therapy
August 25, 2018 - October 27, 2018
Will Henry
Surface Tension
August 4, 2018 - September 28, 2018
Agnes Martin
Prints
July 7, 2018 - August 25, 2018
Four Artists Four Rooms
May 26, 2018 - July 28, 2018