James Barron Art
PO Box 97
South Kent, CT 06785
By Appointment
917 270 8044
James Barron founded his art business in 1987 as a private art dealer and consultant, and established James Barron Art in 2010. The gallery specializes in modern and contemporary American and European art, including works by Picasso, Matisse, Arp, Giacometti and Pollock, as well as Warhol, Diebenkorn, LeWitt, Mangold, Pepper, Caro and Olitski. Barron is equally adept in guiding both new and experienced collectors. The gallery has an ongoing series of interviews with artists and art historians, reflecting a longstanding tradition of special events.
Current Exhibition
Beverly Pepper
Beverly Pepper: Precarious Balance
September 8, 2021 - November 6, 2021
Our exhibition spans Beverly Pepper's entire career, with her earliest sculptures from 1960 through some of her final monumental works. Precarious Balance includes stainless steel sculptures from 1968, which are 9 inches tall and weigh 3 pounds, through Octavia, a late masterpiece, which stands over 11 feet tall and weighs 12 tons. Taking a cue from Pepper's longstanding interest in science, nature, and outdoor sculpture, we have installed many of the works both in the Upper Gallery and in the surrounding landscape.
Past Exhibitions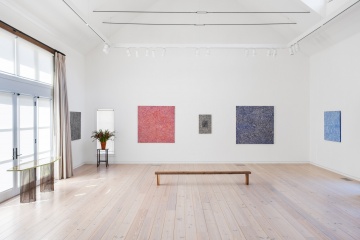 Laura de Santillana
Laura de Santillana at the Meditation Hut
July 9, 2021 - August 27, 2021
We are thrilled to present a selection of Laura de Santillana's glass works in the Meditation Hut. The unique environment of the Meditation Hut activates these pieces, as striking sunlight and shadows play off the glass, highlighting subtle shifts in its coloration. In an April 2017 interview with James Barron, Laura de Santillana explained the void at the center of these forms: "It starts with the breath. I like working with glass because you put air -- your breath -- inside the material and you close it inside. It's the moment between inhaling and exhaling. By trapping air inside, some interesting things happen in the process. The accidents are written inside the piece." In works like Flag XIII (2001), this breath is made visible when illuminated in the Meditation Hut, with pockets of air glowing inside the fields of red, yellow, and green.
Sol LeWitt
Sol LeWitt: Small Gouaches
July 9, 2021 - August 27, 2021
James Barron Art is pleased to exhibit Sol LeWitt: Small Gouaches, a selection of LeWitt gouaches from 1985 to 1995, including geometric forms and the artist's later wavy bands. The works in our exhibition feature LeWitt's trademark use of red, yellow, blue, and grey/black; each work uses combinations of these fundamental colors to create varying shades and hues within the composition. "LeWitt's pure reds, yellows, and blues provide once again, in the history of twentieth-century art, the shock of recognizing the unadulterated beauty of these primary hues, a eureka experience we were taught most insistently by Mondrian, but which every generation feels the need to rediscover." Robert Rosenblum
The Red Show
May 21, 2021 - August 28, 2021
The color red is associated with power, representing passion, energy, violence, desire, and courage. Due to scarcity of available pigments, the use of red historically denoted artworks of particular importance. The Red Show explores both artist and viewer's visceral reaction to the color red, through works of various media, styles, and techniques.