528 West 26th Street
New York, NY 10001
212 315 0470
Galerie Lelong & Co. opened in New York in 1985, and in 2001 moved to its present (ground-floor) location in Chelsea. The gallery's focus is in international contemporary art, representing artists and estates from the United States, South America, Europe, and the Asia Pacific region.
The gallery has a long history of working closely with museums and public institutions from around the world to support the placement of permanent commissions and the creation of monographic exhibitions and publications on its artists. It has been a proponent of contemporary Latin American art and has presented exhibitions by some of its most vital figures for over two decades.
Artists Represented:
Etel Adnan
Sarah Cain
Petah Coyne
Leonardo Drew
Angelo Filomeno
Andy Goldsworthy
Jane Hammond
Alfredo Jaar
Samuel Levi Jones
Rosemary Laing
Lin Tianmiao
Nalini Malani
Cildo Meireles
Estate of Ana Mendieta
Yoko Ono
Jaume Plensa
Zilia Sánchez
Estate of Carolee Schneemann
Kate Shepherd
Estate of Nancy Spero
Michelle Stuart
Estate of Mildred Thompson
Barthélémy Toguo
Juan Uslé
Ursula von Rydingsvard
Krzysztof Wodiczko
Catherine Yass
Works Available By:
Pablo Accinelli
Vito Acconci
McArthur Binion
Louise Bourgeois
James Brown
John Coplans
Simon English
Ellsworth Kelly
Anders Krisár
Wolfgang Laib
Sol Lewitt
Richard Long
Robert Mangold
Brice Marden
Malcolm Morley
Hélio Oiticica
Robert Ryman
Sean Scully
Antoni Tàpies
Frederic Matys Thursz
Past Exhibitions
Kate Shepherd
Surveillance
528 West 26th Street
New York, NY 10001

March 12, 2020 - April 18, 2020
Galerie Lelong & Co. is pleased to present Surveillance, a solo exhibition of new paintings by New York-based artist Kate Shepherd. Known for her paintings of deeply resonant colors achieved through monochromatic layers of enamel, the presentation will reflect the artist's progression in her exploration of spatial complexity.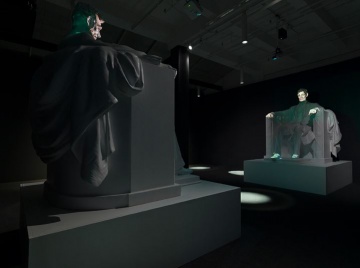 Krzysztof Wodiczko
A House Divided...
528 West 26th Street
New York, NY 10001

January 25, 2020 - March 7, 2020
Galerie Lelong & Co. is pleased to present Krzysztof Wodiczko: A House Divided…, a new projection-installation work exploring contemporary political polarization in the United States and reflective of the world at large. This exhibition follows the opening of the artist's most recent site-specific projection, Monument, commissioned by Madison Square Park Conservancy and on view January 16 through May 10, 2020.
Zilia Sánchez
Eros
528 West 26th Street
New York, NY 10001

November 21, 2019 - January 17, 2020
Galerie Lelong & Co. is pleased to present Eros, its second solo exhibition of Cuban artist Zilia Sánchez, timed to coincide with the artist's first retrospective at El Museo del Barrio. Recalling the Greek god of love, the exhibition title encapsulates Sánchez's uniquely sensual, corporeal approach to abstraction, most familiar from her shaped canvas paintings. While the museum show will survey the artist's vast oeuvre spanning more than six decades, Eros focuses on about a dozen new and recent works, highlighting Sánchez's evolving interest in completely free-standing work and includes her first-ever sculptures in marble.
Ana Mendieta
La tierra habla (The Earth Speaks)
528 West 26th Street
New York, NY 10001

October 17, 2019 - November 16, 2019
Mass Awakening
528 West 26th Street
New York, NY 10001

September 5, 2019 - October 12, 2019
Barthélémy Toguo
Urban Requiem
528 West 26th Street
New York, NY 10001

March 15, 2019 - May 11, 2019
Michelle Stuart
Flight of Time
528 West 26th Street
New York, NY 10001

January 31, 2019 - March 9, 2019
Hélio Oiticica
Spatial Relief and Drawings, 1955-59
528 West 26th Street
New York, NY 10001

November 3, 2018 - December 22, 2018
Petah Coyne
Having Gone I Will Return
528 West 26th Street
New York, NY 10001

September 13, 2018 - October 27, 2018
Etel Adnan, Ione Saldanha, and Carolee Schneemann
Of the Self and of the Other
528 West 26th Street
New York, NY 10001

June 28, 2018 - August 3, 2018
Ursula von Rydingsvard
Torn
528 West 26th Street
New York, NY 10001

May 3, 2018 - June 23, 2018
Mildred Thompson
Radiation Explorations and Magnetic Fields
528 West 26th Street
New York, NY 10001

February 22, 2018 - April 21, 2018
Curated by Samuel Levi Jones
Sidelined
528 West 26th Street
New York, NY 10001

January 5, 2018 - February 17, 2018