514 West 26th Street
New York, NY 10001
212 988 2200
Founded in 2006, Fergus McCaffrey is internationally recognized for its groundbreaking role in promoting the work of post-war Japanese artists such as Sadamasa Motonaga, Natsuyuki Nakanishi, Kazuo Shiraga, and Jiro Takamatsu. The gallery also exhibits the work of emerging and seminal Western artists such as Marcia Hafif, Birgit Jürgenssen, and Richard Nonas.
Artists Represented:

Barry X Ball

Anna Conway

Marcia Hafif

Noriyuki Haraguchi

Tatsuo Ikeda

Kathleen Jacobs

Estate of Birgit Jurgenssen

Brian Maguire

Estate of Sadamasa Motonaga

Natsuyuki Nakanishi

Hitoshi Nomura

Richard Nonas

Sally Ross

Gary Rough

Estate of Fujiko Shiraga

Estate of Kazuo Shiraga

Estate of Jiro Takamatsu

Estate of Toshio Yoshida

Andy Warhol
Works Available By:
Jasper Johns
Martha Jungwirth
Akira Kanayama
Tetsumi Kudo
Estate of Saburo Murakami
Sigmar Polke
Carol Rama
Robert Rauschenberg
Robert Ryman
Mario Schifano
Atsuko Tanaka
Estate of Chiyu Uemae
Jiro Yoshihara
Andy Warhol
Past Exhibitions
In Light of Shade
514 West 26th Street
New York, NY 10001

February 27, 2019 - April 19, 2019
Ari Marcopoulos
Films. Photographs.
514 West 26th Street
New York, NY 10001

January 24, 2019 - February 23, 2019
Sadamasa Motonaga: 1962-1972
514 West 26th Street
New York, NY 10001

November 1, 2018 - December 21, 2018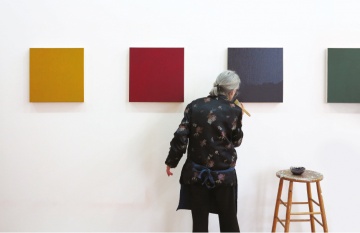 Marcia Hafif
Marcia Hafif Remembered
514 West 26th Street
New York, NY 10001

September 20, 2018 - October 20, 2018
Gutai
514 West 26th Street
New York, NY 10001

April 25, 2018 - June 30, 2018
Kathleen Jacobs
Drems
514 West 26th Street
New York, NY 10001

March 1, 2018 - April 14, 2018
Sally Ross
514 West 26th Street
New York, NY 10001

January 11, 2018 - February 24, 2018