13 East 69th Street, Suite 4F
New York, NY 10021
212 734 3636

Debra Force Fine Art, Inc., established in 1999, specializes in American paintings, drawings and sculpture from the 18th, 19th and 20th centuries. Located on New York's Upper Eastside, the gallery offers exceptional works in a variety of price ranges with a focus on quality and research. We welcome new and mature collectors, as well as institutions, and offer our extensive knowledge and resources in developing collections, understanding the market, and acquiring the most suitable works of art.
Artists Represented:
George Ault
Milton Avery
George Bellows
Thomas Hart Benton
Albert Bierstadt
Oscar Bluemner
Alfred Thompson Bricher
Charles Burchfield
Mary Cassatt
William Merritt Chase
Jasper Francis Cropsey
Stuart Davis
Arthur Dove
Werner Drewes
Walter Gay
William Glackens
O. Louis Guglielmi
Robert Gwathmey
Grace Hartigan
Marsden Hartley
Frederick Childe Hassam
Martin Johnson Heade
Robert Henri
Winslow Homer
George Inness
Wolf Kahn
Walt Kuhn
Jacob Lawrence
George Luks
Herman Maril
John Marin
Alfred Maurer
Thomas Moran
Grandma Moses
Hayward Oubre
Jane Peterson
Fairfield Porter
Edward Potthast
William Trost Richards
Theodore Robinson
Norman Rockwell
Ben Shahn
James Jebusa Shannon
Everett Shinn
Theodoros Stamos
Joseph Stella
Thomas Sully
John Henry Twachtman
Max Weber
Guy Wiggins
Andrew Wyeth
Marguerite Zorach
William Zorach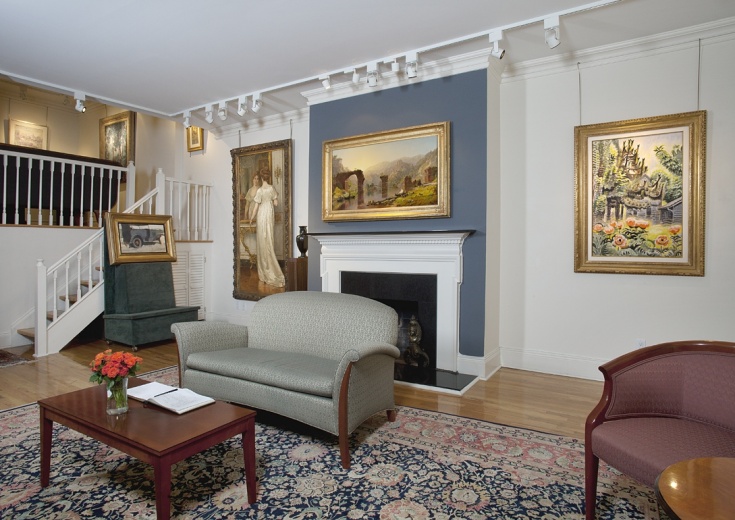 Current Exhibition
New Yorkers and Their City
March 11, 2021 - April 23, 2021
Colin Campbell Cooper (1856-1937) Chatham Square, 1919 oil on canvas 40 x 50 inches
Past Exhibitions
Expatriates: The Journey Abroad
January 21, 2021 - March 5, 2021
James McNeill Whistler (1834–1903) Campanile at Lido, 1879 pastel and charcoal on brown paper 8 x 11 ⅞ in.
Traveling America: East to Midwest
September 24, 2020 - November 6, 2020
The gallery's fall exhibition features a variety of paintings exploring the American landscape from the Northeast, Mid-Atlantic, and Midwest regions of the country.
Queena Stovall
Queena Stovall (1887-1980): Paintings of a Country Life
January 20, 2020 - February 21, 2020
The paintings of self-taught artist Queena Stovall are deeply personal reflections of her life and experiences as a self-professed "country woman" in rural Virginia. They document the hard-ships of endless, life-sustaining farm chores as well as the joys of family and community rituals without sentimentality or idealization. The Baptising signed Queena Stovall and dated March 1951, lower right oil on canvas 24 ¼ x 32 ¼ inches
50 Years of American Art
September 16, 2019 - October 25, 2019
Summer Exhibition
July 15, 2019 - August 30, 2019
Herman Maril
The Provincetown Paintings
September 5, 2018 - October 19, 2018
Summer Show
July 12, 2018 - August 24, 2018
Gallery Selections
April 30, 2018 - June 29, 2018
Modernism to Abstraction: 20th Century American Paintings
February 28, 2018 - March 30, 2018
Inside & Out: 19th Century American Genre, Marine, and Still Life Paintings
January 15, 2018 - February 23, 2018