22 East 80th Street, 3rd Floor
New York, NY 10075
212 570 4190

Barbara Mathes Gallery was founded in 1978 and specializes in paintings, sculpture, and works on paper by modern and contemporary masters. The gallery is known for its tightly focused one-person shows and for imaginative thematic exhibitions that present major modern and contemporary artists in new and illuminating contexts. The gallery is also dedicated to exhibiting the work of overlooked major masters in art historical contexts.
Works Available By:
Carla Accardi
Josef Albers
Carl Andre
Richard Artschwager
Milton Avery
John Baldessari
Giacomo Balla
Hannelore Baron
Tony Berlant
Oscar Bluemner
Agostino Bonalumi
Lee Bontecou
Louise Bourgeois
Alexander Calder
Pier Paolo Calzolari
Pizzi Cannella
Enrico Castellani
Vija Celmins
John Chamberlain
Bruce Conner
Joseph Cornell
Allan D'Arcangelo
Dadamaino
Stuart Davis
Willem de Kooning
Jan Dibbets
Richard Diebenkorn
Arthur Dove
Jean Dubuffet
Patrick Faigenbaum
Lucio Fontana
Sam Francis
Anthony Fry
Alberto Giacometti
Joe Goode
Arshile Gorky
Adolph Gottlieb
Mark Grotjahn
Philip Guston
Marsden Hartley
Eva Hesse
Bernhard Hildebrandt
Damien Hirst
David Hockney
Neil Jenney
Donald Judd
Alex Katz
Ellsworth Kelly
Anselm Kiefer
Karen Kilimnik
Franz Kline
Karin Kneffel
Jeff Koons
Yayoi Kusama
Tadaaki Kuwayama
Fernand Léger
Sol LeWitt
Roy Lichtenstein
Robert Mangold
Brice Marden
John Marin
Agnes Martin
Henri Matisse
Fausto Melotti
Joan Mitchell
Piet Mondrian
Giorgio Morandi
Robert Moskowitz
Claes Oldenburg
Pablo Picasso
Michelangelo Pistoletto
Sigmar Polke
Robert Rauschenberg
Ad Reinhardt
Edda Renouf
Gerhard Richter
Bridget Riley
Ed Ruscha
Robert Ryman
Richard Serra
Serse
David Smith
Frank Stella
Hiroshi Sugimoto
Cy Twombly
Andy Warhol
Tom Wesselmann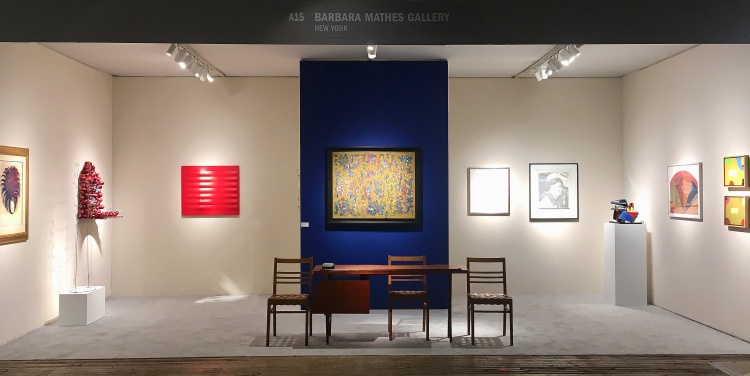 Past Exhibitions
Agostino Bonalumi, Frank Bowling, Alexander Calder, Joseph Cornell, Jan Dibbets, Karen Wilberding Diefenbach, Fausto Melotti, Louise Nevelson
Uncanny Objects
September 14, 2023 - November 22, 2023
Barbara Mathes Gallery is pleased to announce Uncanny Objects, an exhibition of sculptural works exploring the compelling strangeness captured by Freud's theory of the uncanny. For Freud, the uncanny is the feeling elicited when the boundaries between familiar and unfamiliar become blurred. Automata, shadows, mirrors, and doubles are frequent emblems of the uncanny, producing an uneasy marriage of the animate and the inanimate, the alive and the dead, the real and the imaginary.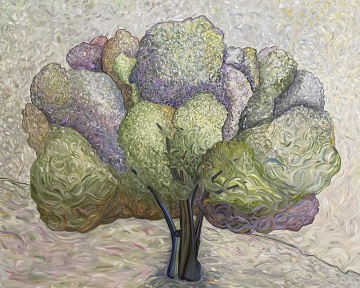 Karen Wilberding Diefenbach
Karen Wilberding Diefenbach: Pastorale
April 27, 2023 - June 29, 2023
Barbara Mathes Gallery is pleased to present Pastorale, an exhibition of new paintings, works on paper, and sculpture by Karen Wilberding Diefenbach. Inspired by the landscape of Tuscany, Diefenbach's work is known for its evocation of tradition and its exploration of our complex interaction with the natural world.
Edda Renouf
Edda Renouf: A Selection of Paintings and Drawings from 1976 - 2019
January 10, 2023 - March 3, 2023
Barbara Mathes Gallery is pleased to announce Edda Renouf: A Selection of Paintings and Drawings from 1976 – 2019, a comprehensive exhibition spanning more than forty years of the artist's career. Presenting a wide range of Renouf's work, this exhibition will explore her commitment to meditative, lyrical abstraction and the experiments with process and material for which she is known.