ADAA Chelsea Gallery Walk 2018
Wednesday, July 18, 6:00pm till 8:00pm
Join ADAA and over 30 of our member galleries for the inaugural Chelsea Gallery Walk! Participating galleries will stay open late,
until 8pm
, for a rare opportunity to see their exhibitions after-hours. Visit our members from 18th to 36th streets to see some of the most dynamic exhibitions in New York City this summer.
Special Events
Nohra Haime Gallery
: 7:00pm :
Gallery artist Gregg Louis will give a guided tour of his solo exhibition "Mirage."
Nancy Hoffman Gallery
: 6:00pm till 7:00pm :
Joan Bankemper, featured in the gallery's summer show "Flowering," will be present to talk with visitors about her work.
Sean Kelly Gallery
: 6:00pm :
Jeffrey Grove, one of the curators of the gallery's exhibition, "Ravelled Threads," will lead a walkthrough of the show.
Lehmann Maupin
: 6:00pm till 8:00pm :
a new performance work created by South African artist Nicholas Hlobo will be on view at the opening of his show, "Ulwamkelo."
7:00pm till 8:00pm :
a conversation between the artist and SCAD Museum of Art curator Storm Janse van Rensburg.
Galerie Lelong & Co.
: 6:30pm :
Gabriela Rangel, a Venezuelan-born writer and curator, will lead a walkthrough of the current exhibition, followed by a conversation between Rangel and one of the featured artists, Carolee Schneemann.
Laurence Miller Gallery
: 6:00pm till 8:00pm :
Two solo shows, "Fred Herzog: Modern Color" and "Eadweard Muybridge: Stopping Time," will open with a reception at the gallery.
David Nolan Gallery
: 6:00 till 8:00pm :
Artist Lauren Altman, of the University of Pennsylvania MFA exhibition "Parentheses," will be present to talk about her work and the show. Associate Director, George Newall, will be giving brief guided tours of Jorinde Voigt's "Integral" sculptures.
Julie Saul Gallery
: 6:00pm till 8:00pm :
Opening reception for "DIY: Made In the Studio" featuring the work of Zeke Berman, Maria Martinez-Cañas & Rafael Domenech, Stephen Frailey, Didier Massard, Gonzalo Puch, and Anastasia Samoylova. Zeke Berman will be present at the gallery leading a DIY still life project where visitors can create their own compositions with available props.
Leslie Tonkonow Artworks + Projects
: 6:30pm till 7:30pm :
Gallery artist Tim Maul will recreate his 1983 performance piece, "Whose Records," followed by a conversation between Maul and fellow artist Michael Smith.
Instagram Photo Contest
Gallery Walk visitors can enter to win a tote bag full of art books and exhibition catalogues by posting photos of their experience on Instagram with the hashtag #ADAAChelseaGalleryWalk. A winner will be selected from those who visit and post from the most ADAA galleries during the event. To be eligible, photos must be posted by 12 noon on July 19.
Participants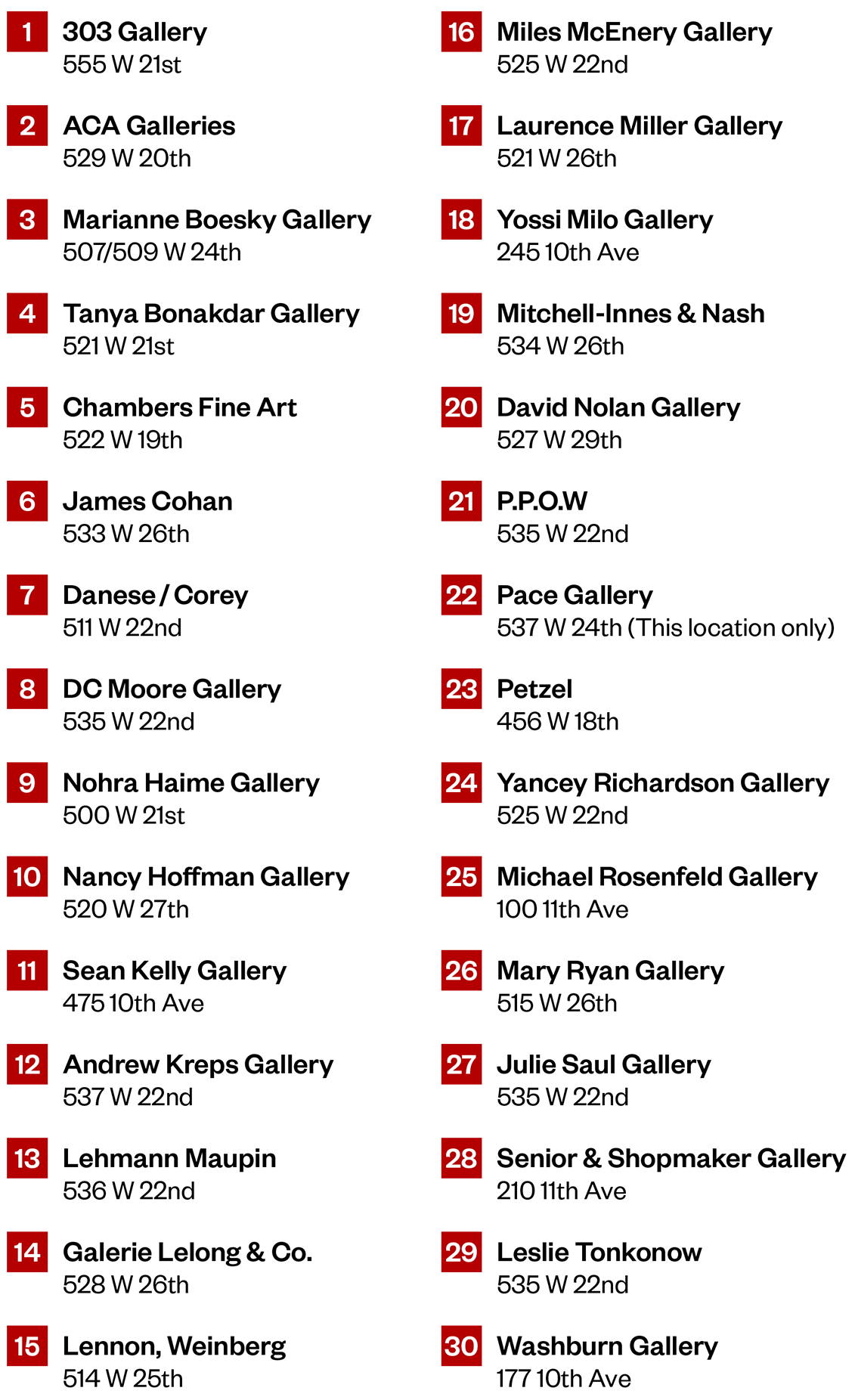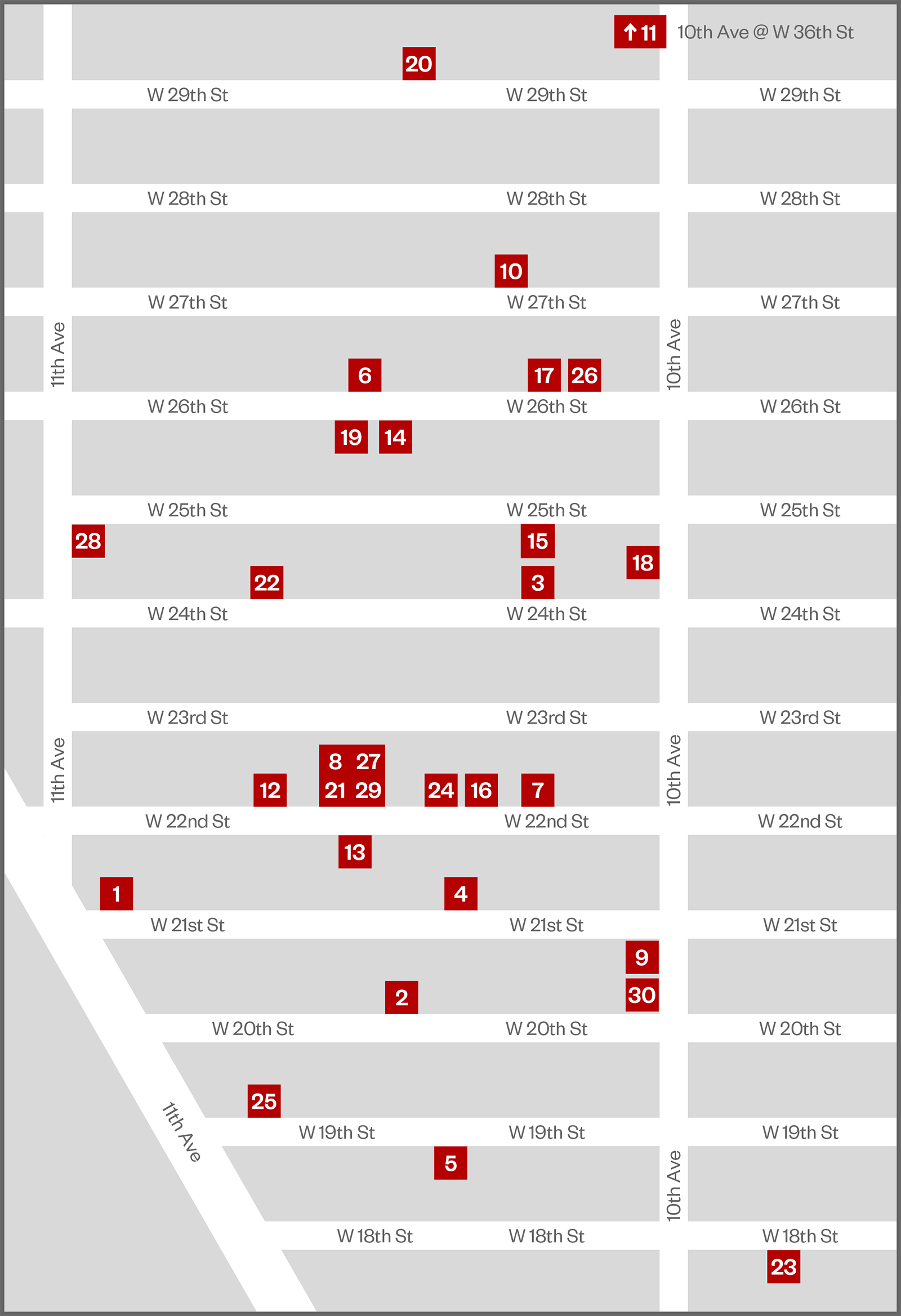 Location
Chelsea, NYC