ADAA Chelsea Gallery Walk 2022
A Self-Guided Tour of 24 ADAA member galleries!
Wednesday, July 20, 6:00pm till 8:00pm
Join us and 24 member galleries for the ADAA's special 60th anniversary edition of the Chelsea Gallery Walk! As part of this free, self-guided walk, participating galleries will stay open late, until 8pm, for a rare opportunity to see their exhibitions after-hours. Visit our Chelsea members to see some of the most dynamic exhibitions in New York City this summer and a selection of special programming!
Download the Gallery Walk Map & Programming Information
HERE
, or use our
Google Map
to navigate on your phone. You can also RSVP to the event on
Facebook
.
Want to stay up-to-date on the Chelsea Gallery Walk, ongoing gallery exhibitions, and other forthcoming arts events? Visit our
homepage
to sign up for the ADAA Mailing List!
Special Events

Nohra Haime Gallery
, 7:00pm: A guided walkthrough by artist Julie Hedrick of her current exhibition "LIFE;" music composed for the exhibition by Peter Wetzler.
Galerie Lelong & Co.
, 6:00pm: A guided walkthrough by the gallery's summer intern Elizabeth Désir, who has been sharing her experience behind-the-scenes on Instagram with #LelongInternTakeover.
Yossi Milo Gallery
, 7:00pm: A guided walkthrough of the exhibition "RGB: John Gill, Daniel Gordon, Emily Mullin, and Ettore Sottsass," followed by a Q&A. Artist Daniel Gordon will be present.
Pace Gallery
, 6:00-8:00pm: Sculptor Arlene Shechet will be present at the gallery exhibition "STUFF: Organized by Arlene Shechet" located on the Second Floor of 540 West 25th Street.
Ricco/Maresca Gallery
, 6:00pm: A guided walkthrough led by Phong H. Bui and Cal McKeever, curators of the exhibition "Singing In Unison: Artists Need to Create On The Same Scale That Society Has The Capacity To Destroy" (Part 4); followed by a reception with refreshments.
Nara Roesler
, 6:00-8:00pm: Reception with refreshments for the gallery's current exhibition, "The Fold in the Horizon" curated by Marcos Chaves; book party for Abraham Palatnik's new monograph, "Enchantment / Experimentation" published by Nara Roesler Books. Copies will be available for purchase.
Washburn Gallery
, 6:00-8:00pm: Artist JoAnne Carson will be present at the gallery.
Instagram Photo Contest
Enter to win a tote bag full of art books and exhibition catalogues by posting photos of your experience on Instagram with the tagging
#ADAAGalleryWalk
in the caption. A winner will be selected from those who visit and tag the most ADAA galleries during the event. To be eligible, you must follow
@The_ADAA
and post all photos by 2pm ET on July 21.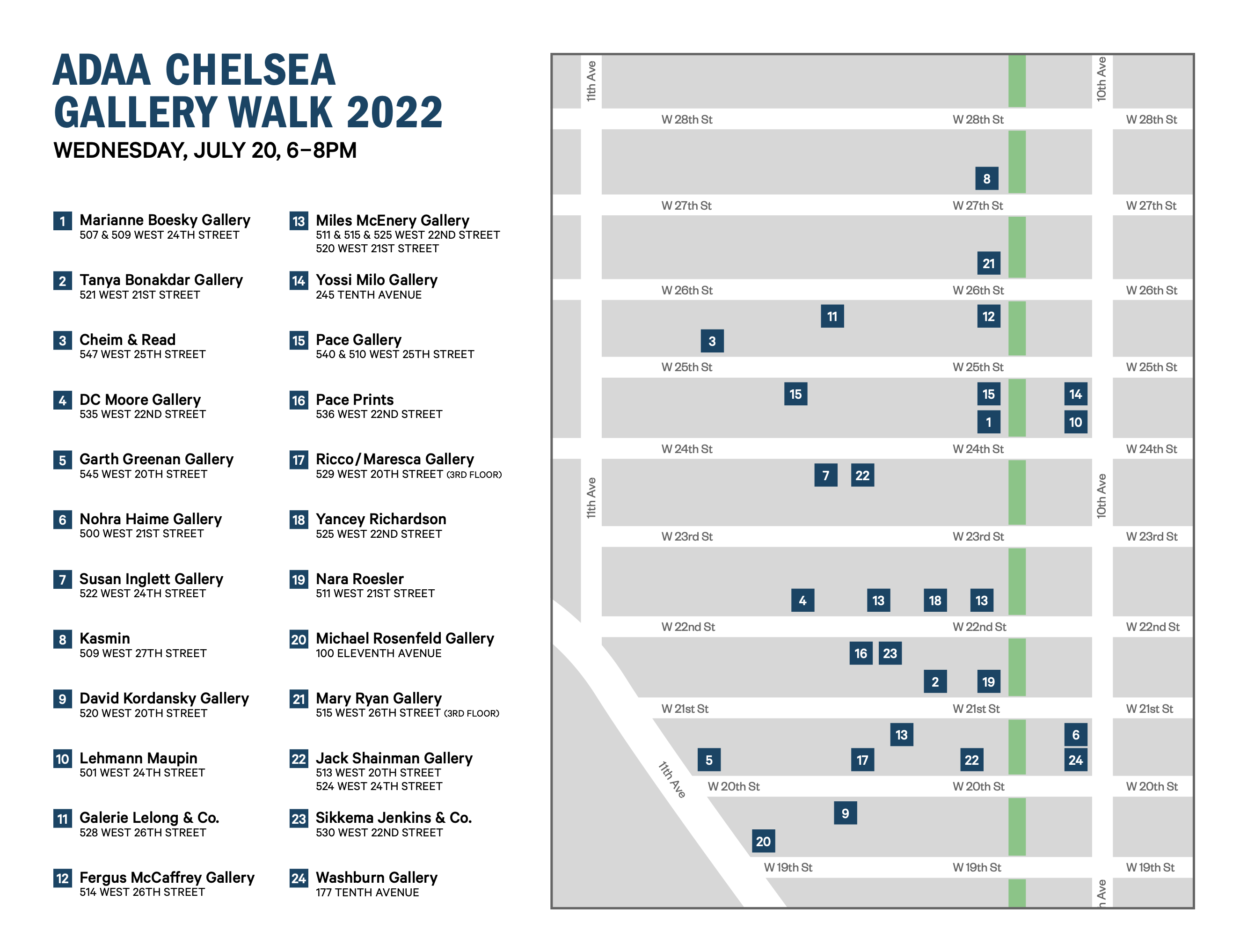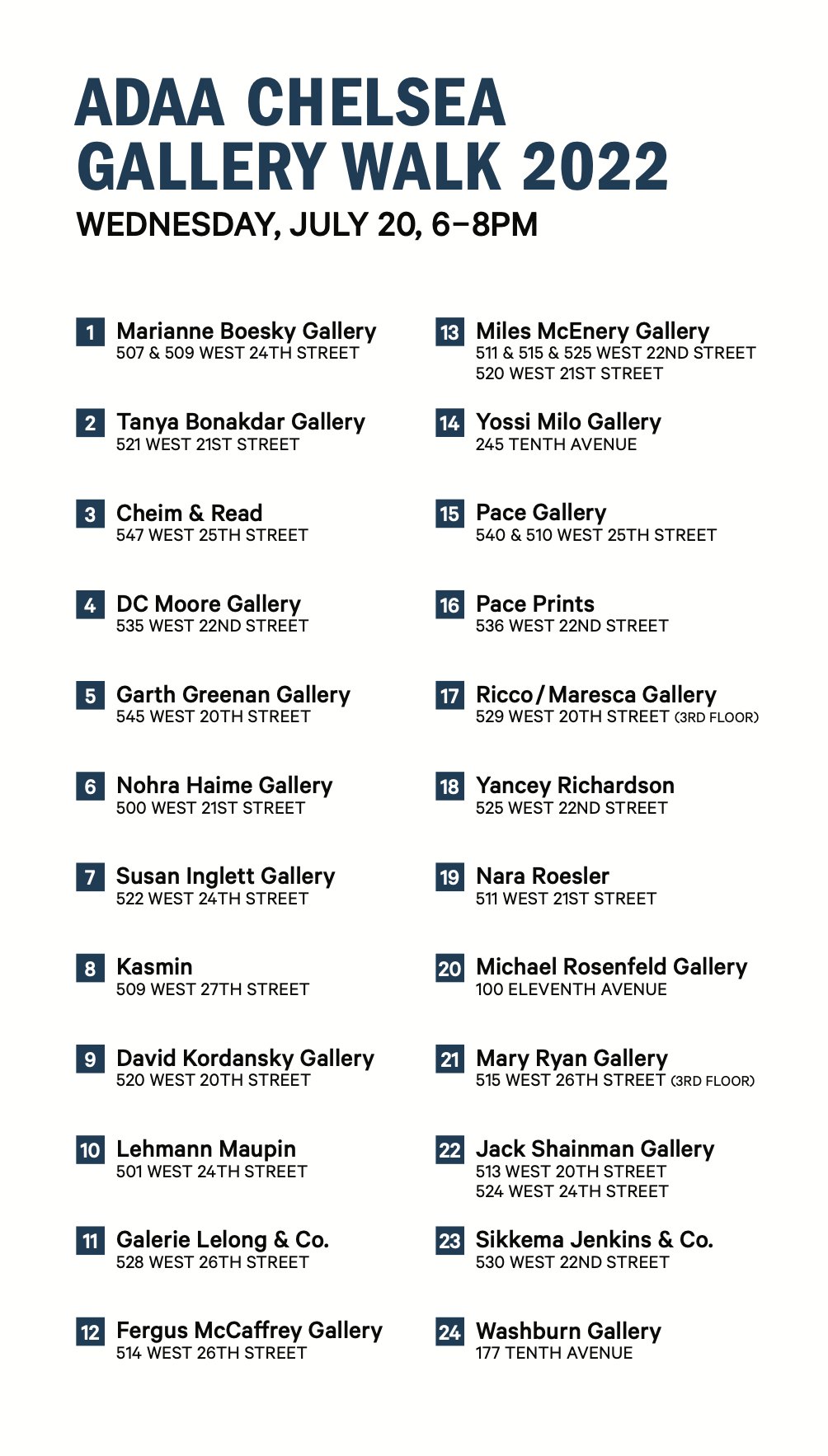 Location
Chelsea, NYC