ADAA Gallery Walk: Upper East Side
A Self-Guided Tour of over 30 ADAA member galleries!
Friday, November 4, 3:00pm till 5:00pm
Join the ADAA and our member galleries for the
ADAA Upper East Side
Gallery Walk! Timed in conjunction with The Art Show at the Park Avenue Armory, the galleries listed below will open their doors to the public, from
3:00pm-5:00pm on Saturday, November 5
, for a collaborative, free gallery walk event showcasing some of the most dynamic exhibitions in New York City this season.
Download the Gallery Walk Map & Programming Information
HERE
, or use our
Google Map
to navigate on your phone. You can also RSVP to the event on
Facebook
.
Want to stay up-to-date on ADAA programming, ongoing gallery exhibitions, and other forthcoming arts events? Visit our
homepage
to sign up for the ADAA Mailing List!
Special Events (check back regularly for updates):
Hauser & Wirth
, 4:00pm: Walkthrough of their Lucio Fontana exhibition.
David Nolan Gallery
, 3:00-5:00pm: Artist Paulo Pasta will be present, on the occasion of his first solo exhibition in all North America
Leon Tovar Gallery
, 3:00-5:00pm: Coffee to celebrate the opening of the exhibition by newly represented Estate of Omar Rayo
Anton Kern Gallery
, 3:00–6:00pm: Apple cider and listening party for artist Lothal Hempel's new record, Nessuno.
Instagram Photo Contest:
Gallery Walk visitors can enter to win a tote bag full of art books and exhibition catalogues by posting photos of their experience on Instagram and tagging
#ADAAGalleryWalk
. A winner will be selected from those who visit and tag ADAA galleries during the event. To be eligible, you must follow
@The_ADAA
and post all photos by 2pm ET on Monday, November 7.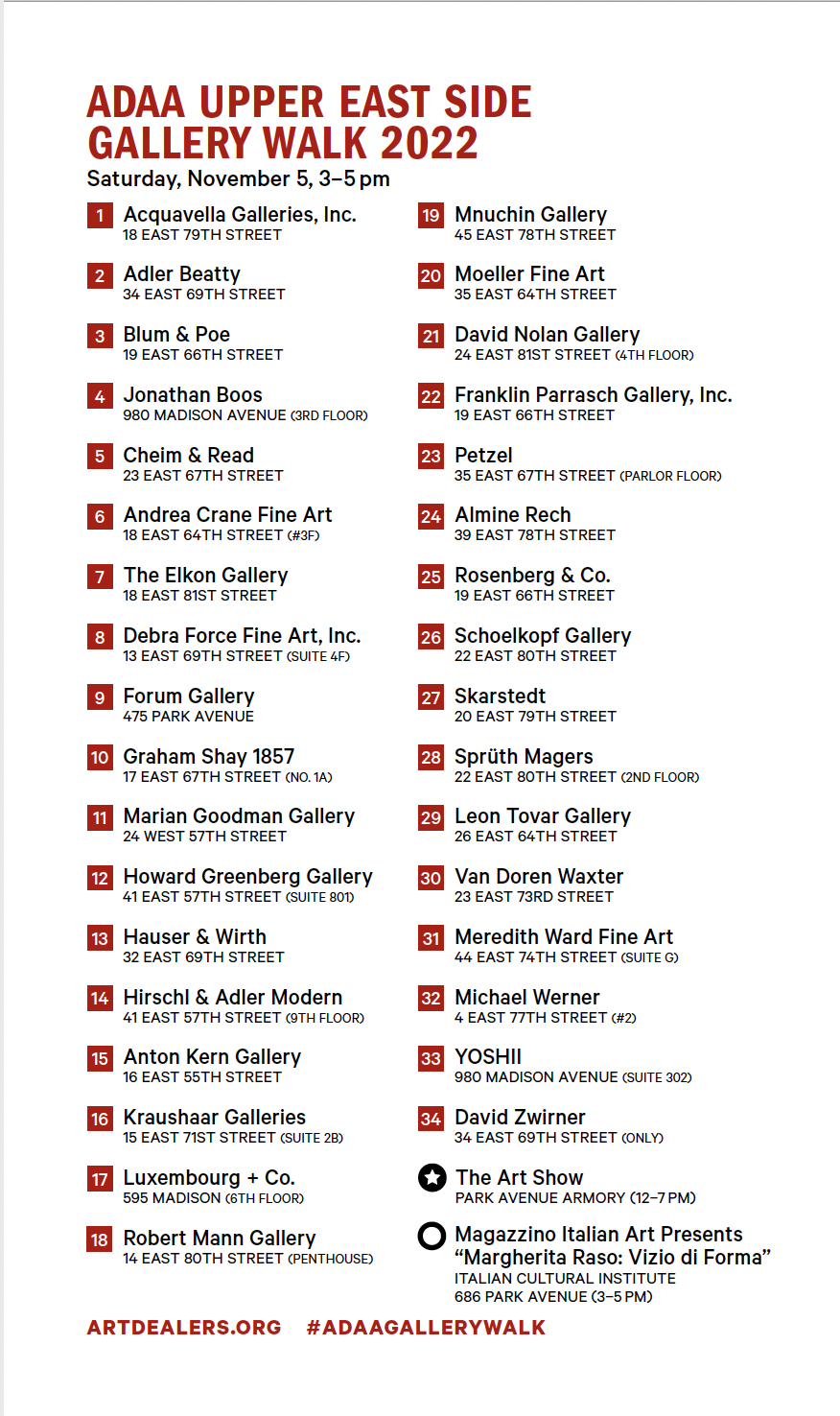 Location
Upper East Side, NYC