ADAA Chelsea Gallery Walk 2023
A Self-Guided Tour of 34 ADAA Member Galleries!
Wednesday, July 19, 6:00pm till 8:00pm
Join us and 34 member galleries for the ADAA's fifth edition of the Chelsea Gallery Walk! As part of this free, self-guided walk, participating galleries will stay open late, until 8pm, for a rare opportunity to see their exhibitions after-hours. Visit our Chelsea members to see some of the most dynamic exhibitions in New York City this summer and a selection of special programming!
Want to stay up-to-date on the Chelsea Gallery Walk, ongoing gallery exhibitions, and other forthcoming arts events? Visit our
homepage
to sign up for the ADAA Mailing List!
Special Events
303 Gallery
, 6:00pm: A book signing and launch for artist Sam Falls's new publication, and a reading by artist Kim Gordon's daughter, Coco Gordon Moore.
Paula Cooper Gallery
, 6:00pm: A guided walkthrough of the Luciano Fabro exhibition, led by Senior Partner Steven Henry, starting at 534 West 21st Street.
Susan Inglett Gallery
, 6:00-8:00pm: An action painting session, and a guided exhibition walkthrough of "Monkey Business," led by curator David Platzker.
Sean Kelly
, 6:00pm: A guided tour of the gallery's current exhibition, "Reclamation," led by curators.
Lehmann Maupin
, 6:30pm: A guided tour of "THE CORPSING PICTURES," led by Curatorial Director Katherine Rochester, and giveaways of exhibition catalogs and posters.
Galerie Lelong & Co.
, 6:30pm: A guided walkthrough by gallery's summer intern Zara Simba, who has been sharing her experience behind-the-scenes on Instagram with #LelongInternTakeover.
Yossi Milo
: 7:00pm: A guided tour of "Crusading The Specter," a group exhibition curated by artist and filmmaker Shikeith.
Instagram Photo Contest
Gallery Walk participants can also enter to win tickets to The Art Show, a tote bag full of art books, and exhibition catalogues by posting photos of their experience on Instagram and tagging #ADAAGalleryWalk in the caption. A winner will be selected from those who visit and post from the most ADAA galleries during the event. To be eligible, you must follow @the_adaa and post all photos by 2pm ET on July 20.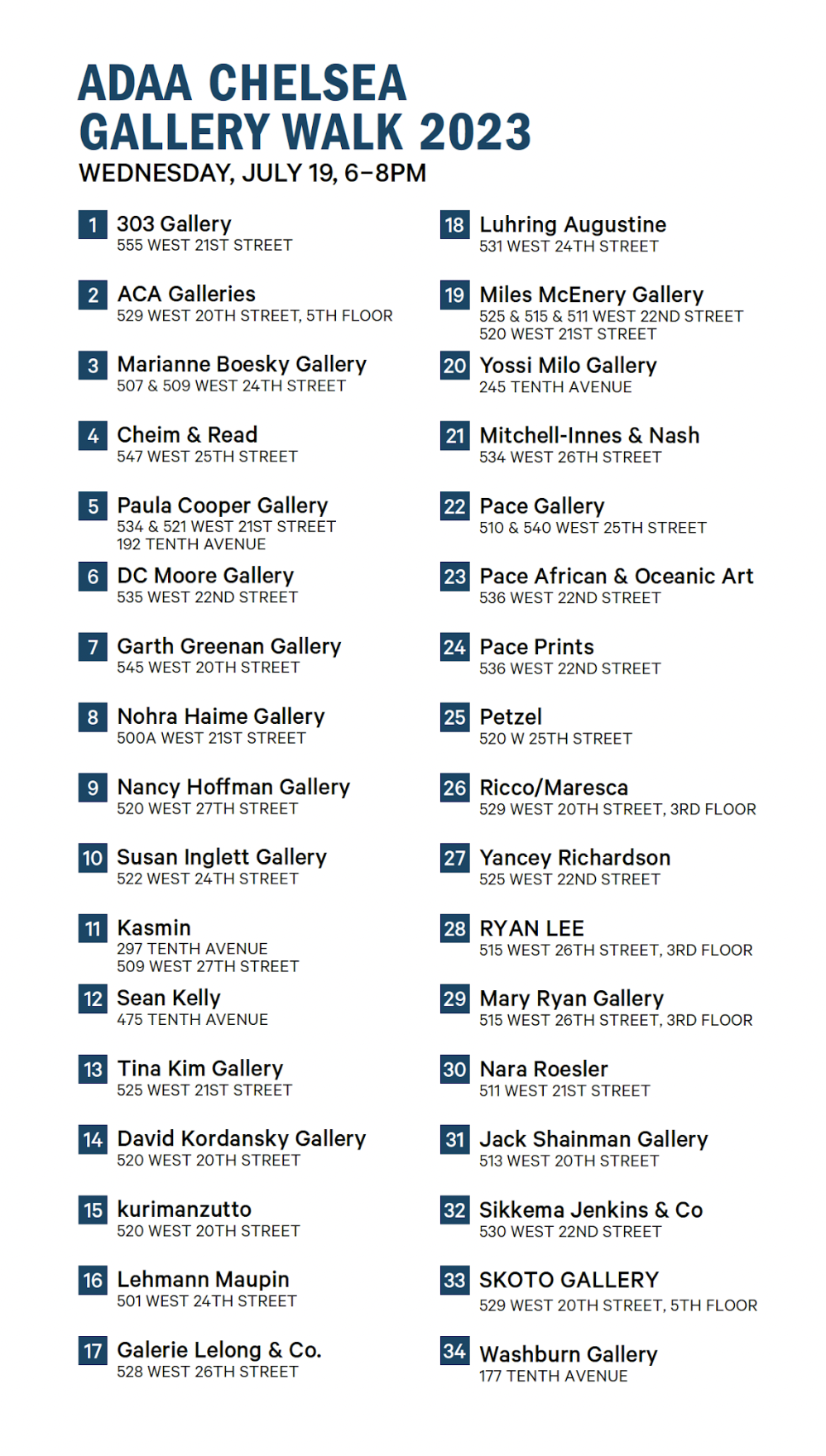 Location
Chelsea, NYC